How Concrete Slab Contractors Protect Your Property
Imagine you're walking down an old, cracked concrete sidewalk. Ground conditions have led to sinking and heaving, so all of a sudden, your foot catches an uneven ledge in the concrete sidewalk. You fall right into a faceplant. How embarrassing! Good thing Allbrite, the flat work contractors near you, can help prevent this from happening. 
Allbrite was recently the concrete contractor called in to fix a concrete sidewalk for the San Antonio Housing Authority. A section of the concrete sidewalk contained multiple trip hazards due to sinking and heaving. It was past time for a new sidewalk. 
The potential embarrassment from these trip hazards is bad enough, but things could be even worse! Every time a sidewalk's trip hazard causes someone to fall, they could get injured or even seriously hurt. When that happens, the sidewalk's owner could take on serious legal liability. Legal costs can easily swamp the cost of taking proper care of your concrete sidewalk. That means that when you need Allbrite, not only are you getting a new concrete sidewalk, but you're also saving money.
Here's how Allbrite built a great new sidewalk: 
1.
Allbrite demolished and removed the old concrete sidewalk, then excavated the subgrade by six inches and added rebar reinforcements: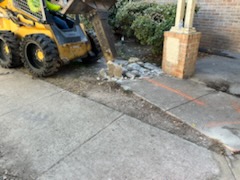 2.
Then, Allbrite installed compact select fill and poured the new concrete sidewalk: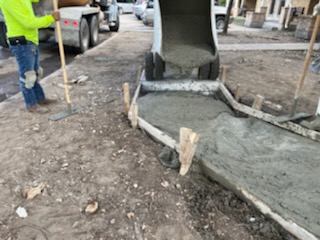 3.
Finally, Allbrite completed the new concrete sidewalk with a broom finish: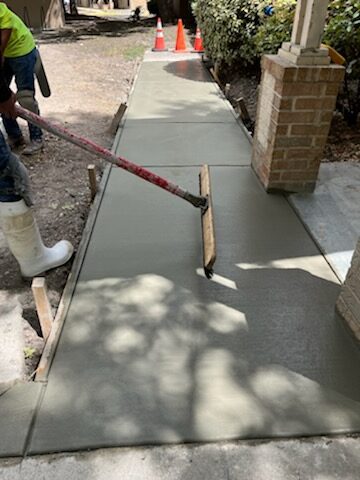 After all that hard work, Allbrite produced a great new concrete sidewalk! Divisions on this project included sitework, grading, rebar reinforcement, and concrete. The new concrete slabs had no cracks, sinking, heaving, or other imperfections, leaving a concrete sidewalk free of risk– whether risk of embarrassment, injury, or legal liability. Get in touch with Allbrite today for a flat work contractor that will make your concrete sidewalk safe and secure!